 CONVENIENT SUBSCRIPTION OPTIONS FREE & FAST SHIPPING RIGHT TO YOUR DOOR 100% SATISFACTION GUARANTEED

EASY & FREE RETURNS UP TO 60 DAYS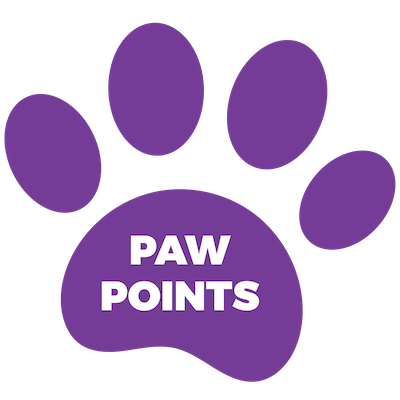 Simply sign up by clicking the "Paw Points" icon in the lower right hand side of your browser. And voila! You earned 15 Paw Point just for signing up.
You can earn more points by making purchases. Sign into your Paw Points account before checking out, and earn while you spend.
When you create an account, you automatically join our newsletter. Enjoy insider discounts & news.
Earn 1 Paw Point for every dollar spent on Wags.com. After spending $500, earn 1.2 Paw Points.
Give 10% off / get 5% off
Share us with your friends! Earn a discount when your friend completes a purchase using your unique link.
Happy Birthday to you, from Wags! Enjoy a reward of 100 Paw Points every year on your special day.
Set up your Wags profile & earn 25 Paw Points. Click your name in the top right, & select "edit profile".
Give us a shout out! Share our Facebook page @WagsforPets on your Facebook & earn 15 Paw Points.
Help customers get a feel for the product. Leave a photo review for a product & earn 40 Paw Points.
Earn 20 Paw Points when you follow our Instagram Account @WagsforPets. #totallywags
join autodelivery & earn points with Each delivery

Pet parents are busy, that's why we make it easy to customize your delivery to fit your schedule.
Choose the items you need and select your desired shipment frequency.

Enjoy free shipping and returns (and a super happy, healthy pet)
Share photos of your happy, healthy pets enjoying Wags by tagging them @wagsforpets.