COllagen for Cats and dogs
Totally Wags premium collagen is an all natural, hypoallergenic nutritional supplement developed specifically to deliver multiple health benefits.
The effectiveness of collagen for pets has been demonstrated in numerous studies. Our collagen peptides are safe, bioactive peptides optimized to be easily digested, highly bioactive and effective.
Numerous recent studies prove the effectiveness of collagen peptides. One study that focused on canine disease determined that gelatin significantly improved activity (vitality) and significantly reduced stiffness and lameness. The researchers concluded that a dose of gelatin mixed in with food would be beneficial for dogs.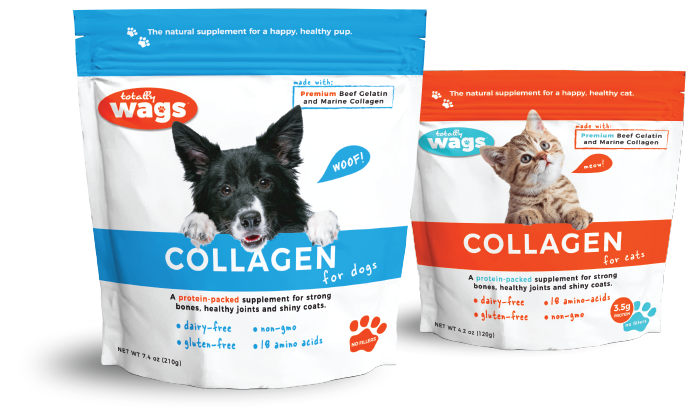 Wags is all about happy, healthy pets – and finding natural solutions to support their wellbeing is what makes us tick. Wags is owned by pet-lovers who believe in quality ingredients. Our pets deserve the best, that's why we make it our mission to provide the nutrition they need with no fillers, GMOs, gluten or dairy.
Pasture-Raised Beef Gelatin
Marine Collagen Peptides
Our unique blend of beef gelatin and marine collagen is highly palatable and specifically developed to deliver health benefits to your pet.
We use all natural, sustainably sourced, premium ingredients. Totally Wags is protein packed, nutritious and easy to digest.

High Protein & Low Calorie with 18 amino acids.

Supports digestion, helps maintain healthy skin & coat, promotes strong joints & bones.

It's easy to use - just sprinkle on wet or dry pet food and stir. Your furry friend will love the great taste!

Totally Wags Collagen is all-natural, non-GMO, grain-free, gluten-free, dairy-free, soy-free.
In a study conducted by the University of Rochester, mice were given a low dose of collagen or an empty control. The mice who received collagen had significantly lower levels of a certain protein signaling inflammation in the synovial membrane both at early and mid stage.
This demonstrates that collagen peptides may reduce joint inflammation and support cartilage regeneration in mice. According to the study author, Michael Zuscik, PhD, "The results are extremely promising and can open up new doors to potential benefits that collagen peptides can bring to joint health."
Totally Wags Collagen for Cats and Dogs can get even the pickiest of eaters excited for meal time. Our blend of marine collagen peptides and pasture-raised beef gelatin are both flavorful and nutritious.